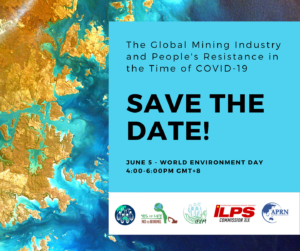 La International People's Conference on Mining 2015, Yes to Life No to Mining, Asia Pacific Research Network – APRN, Asia Pacific Network of Environment Defenders y la International League of People's Struggle – XIX están organizando un seminario web titulado La industria minera mundial y la resistencia popular en tiempos de COVID-19.
El seminario web presentará tendencias y análisis de la industria minera mundial en el marco de la pandemia de COVID. Mostrará la resistencia de las organizaciones de base y acciones comunitarias contra la minería. El seminario web tiene por objeto fortalecer la unidad y la solidaridad entre la sociedad civil y organizaciones populares.
El seminario tendrá lugar en inglés (el horario GMT+8 son las 12 de la noche, horario central europeo de verano CEST).
Detalles completos aquí: https://bit.ly/2LRyeUL
Regístrate aquí: https://bit.ly/2Xg54Us